I took my 54 cal Lyman Great Plains Rifle out this afternoon to look for a snowshoe hare. I built this rifle from a kit several years ago. It still had a load of 95 grains 3F Goex with a patched round ball in it from last season. After I took a deer with it last year I cleaned it and loaded it but never had a chance at another deer or elk that season. I haven't got around to shooting it since then so I figured if I didn't get a shot at a hare today I'd at least fire it and clean it. I hadn't made it 50 yards into the woods when I jumped a snowshoe. He blew out and was never seen again. I started working around likely looking cover and eventually spotted another one. This one hesitated long enough for me to get a shot. When the smoke cleared I saw I'd made a clean head shot.
I reloaded the gun with a 30 grain charge of Goex 3F, a .018 pillow ticking patch lubed with Bumblin' Bear Grease and a .530 ball. I tried this load last year out to 30 yards and found it to be very accurate. I figured it would be a perfect small game load. I collected the hare and set out to look for another one. It didn't take long before I found one holding in a patch of heavy cover. This one also held long enough for me to take a shot and I had my second snowshoe of the day. I made another clean head shot. You could not see a difference in the damage caused by the 95gr load compared to the 30gr load on such a small animal.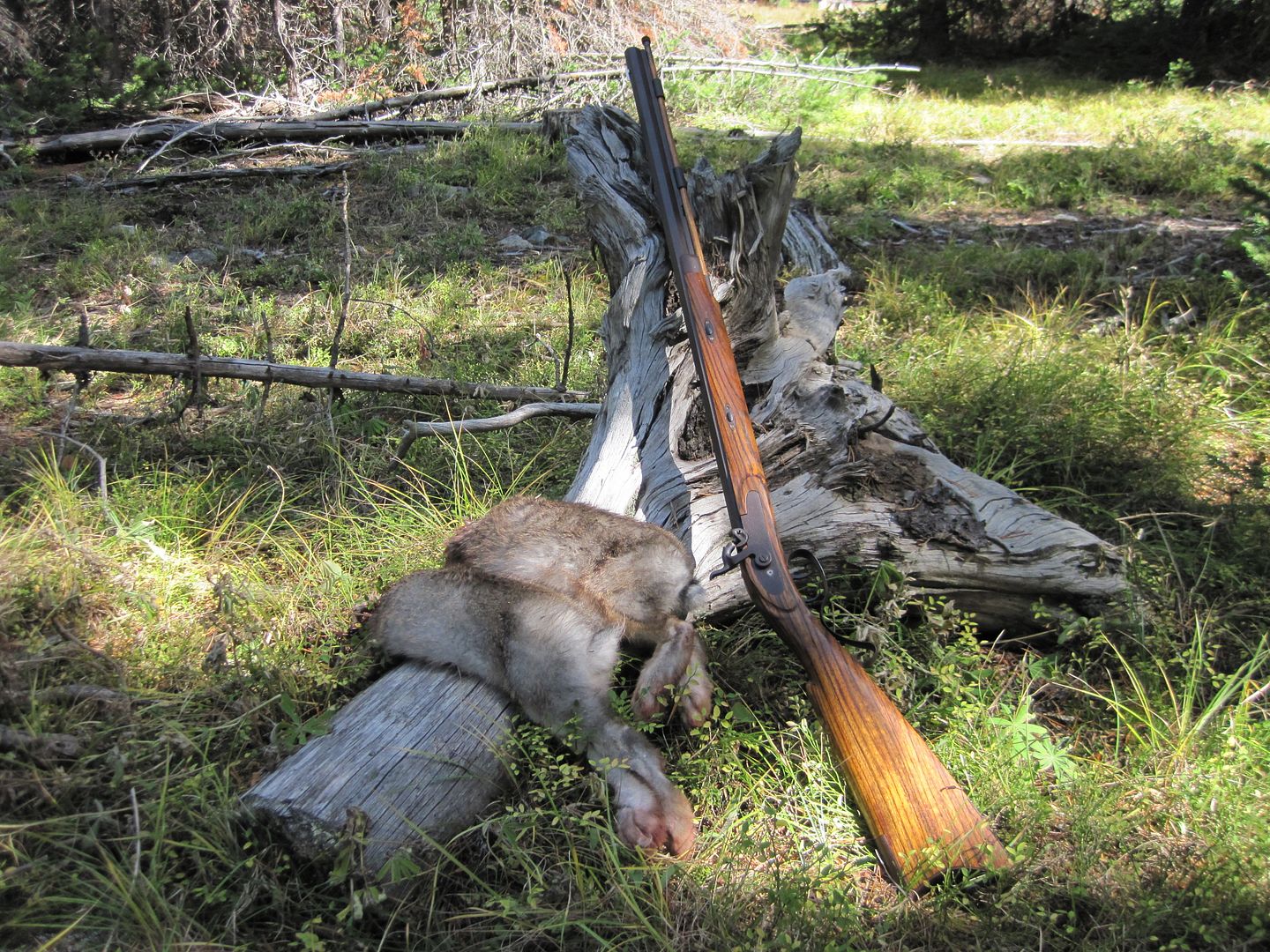 I spent a while looking for another snowshoe without luck. I decided to head for the creek to clean these two before calling it a day. There's an old log next to the creek that I've used many times as a work bench when cleaning small game. As I started to clean the rabbits I heard the four note "whistle" of a spruce grouse. I imitated the call back and it whistled again. Grouse season is open so I figured as soon as I was done cleaning the hares I'd go look for the grouse. We called back and forth several more times and then the grouse quit calling.
I was looking down, focused on what I was doing when suddenly there was a thump on the same log I was working on. I'd been seeing fresh bear sign all day so without thinking I grabbed my rifle as I looked up to see what hit the log. It was a grouse! I've called back and forth with them before but I've never called one in! Thankfully it was only a grouse since I only had the 30gr load in the gun. I wasn't about to look a gift horse in the mouth. As Del Gue said in Jeremiah Johnson "Mother Gue never raised such a foolish child!" My mother didn't either. There was a second grouse with it and when I started to raise the rifle they both flew across the creek and landed. I was able to make a clean head shot on one but the other one blew out at the sound of the shot. I crossed the creek and collected the bird. Getting a grouse was a nice surprise. I finished cleaning the hares and then cleaned the grouse.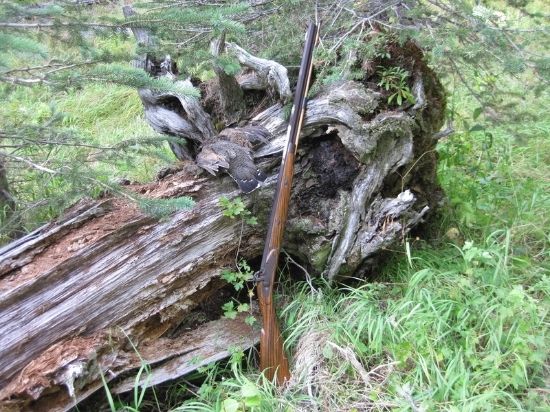 Afternoon was turning to evening which is usually a time when grouse active. The daily limit on grouse is three so I figured I'd take a quick look around to see if I could find two more. I started working a spot where I often see grouse. After about short time I spotted one and took it. I quickly reloaded and collected the grouse. I could tell I hit this one a little lower than I wanted to. I clipped the neck but it looked like I might have got the butt of the wing and a little bit of the breast. You can see the broken wing on the bird on the right in the picture. I figured I might as well head for the vehicle and call it a day. Before I went too far I came across another grouse. I made a clean shot clipping the neck and lower portion of the head.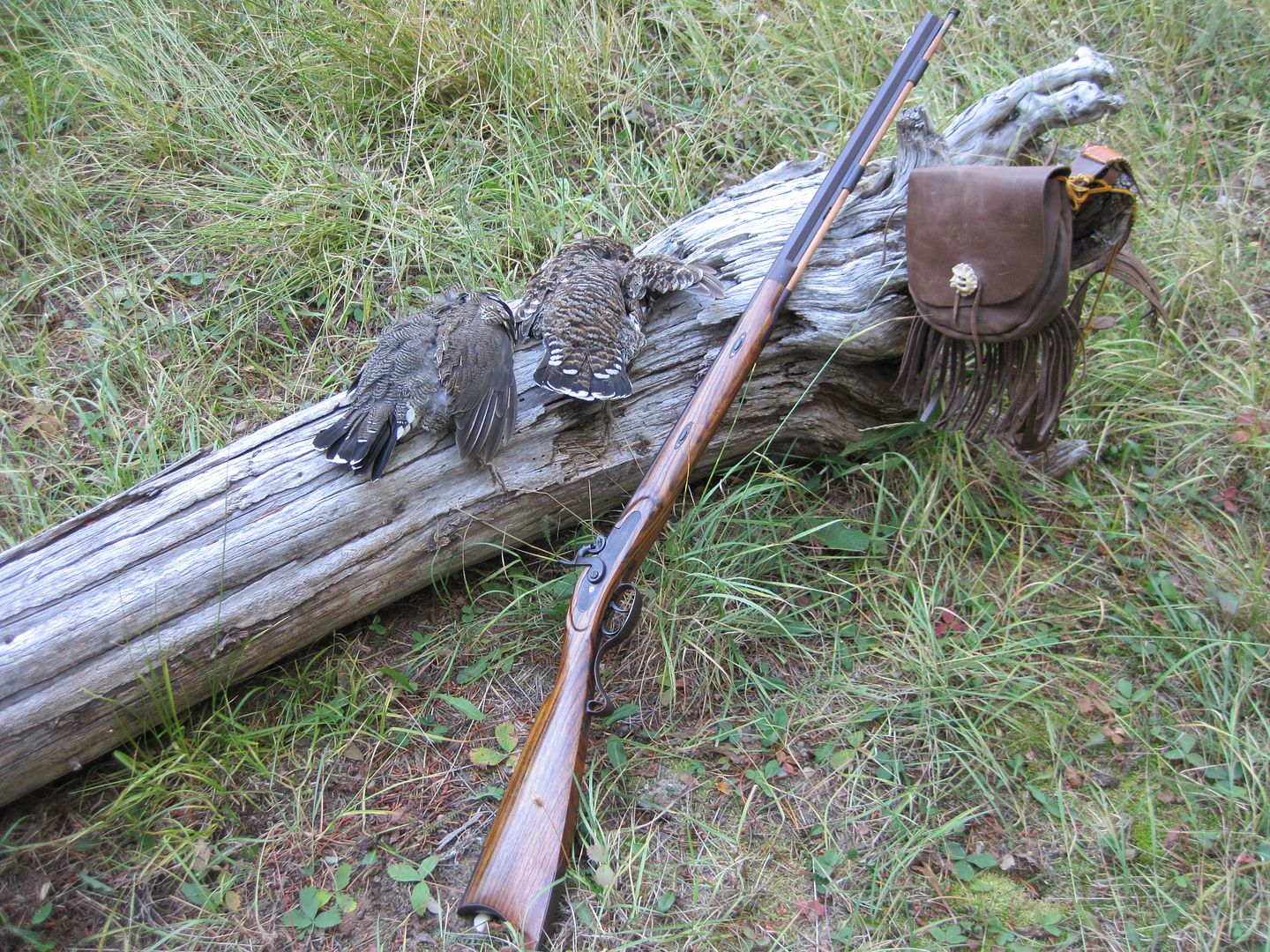 This turned out to be a great afternoon! Two snowshoe hares and a limit of grouse taken with my 54 cal GPR! Here's all the afternoons take together before I cleaned the last two grouse. In case anyone is wondering the wing is still attached to the breast of the first grouse. By law here you have to leave one wing attached to the breast for identification.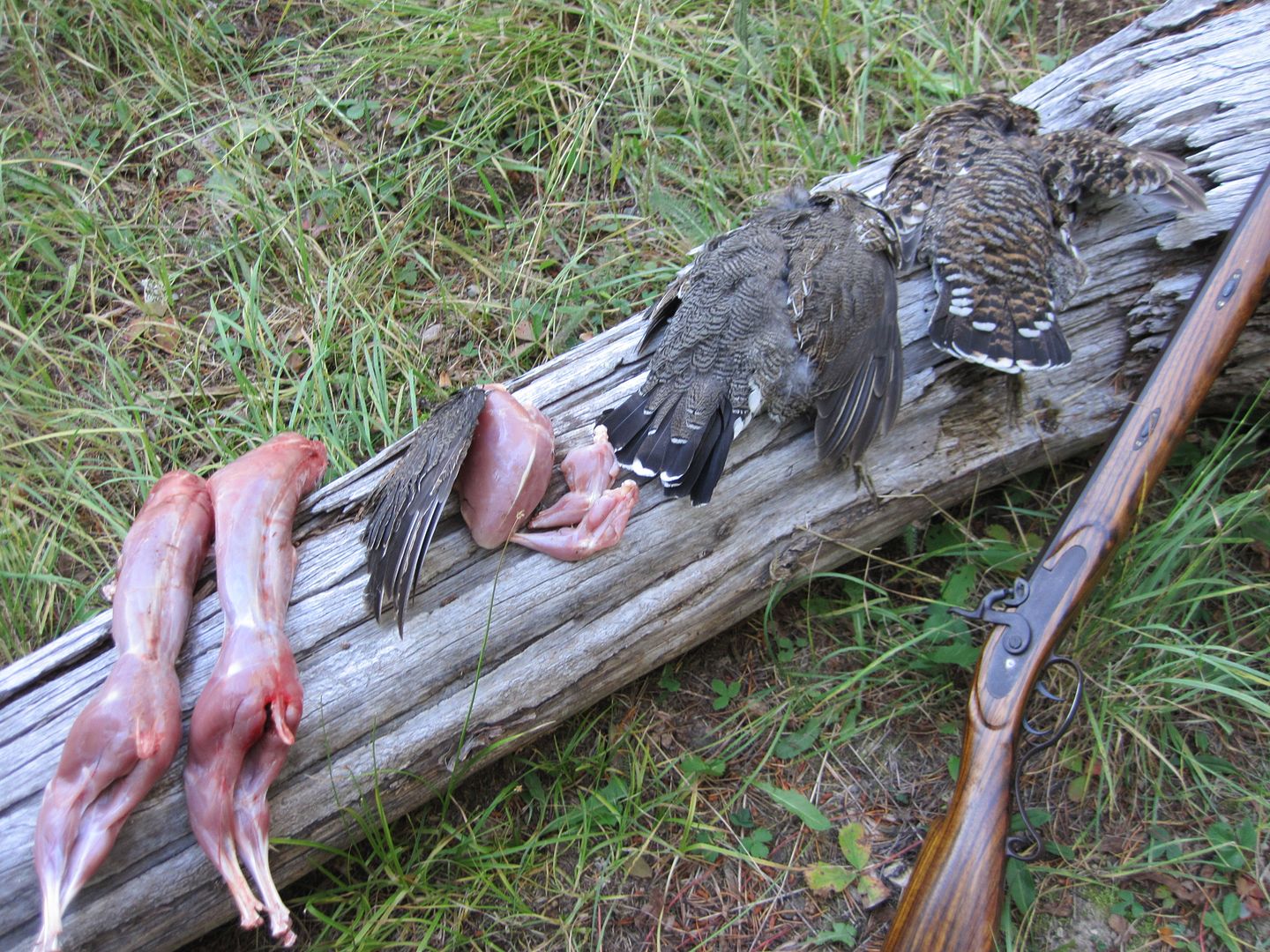 I didn't lose much meat with my bad shot on the second grouse. You can see it took a little of the meat but not much.
This message has been edited. Last edited by: pab1,


Experience is the best teacher, hunger good sauce.
Osborne Russell Journal of a Trapper