I picked up a .530 round ball bag mold from Larry Callahan a couple years ago. Last night I decided that I would try it out today. I packed it along with a ladle, some lead, powder and a .54 cal Lyman Plains Pistol I built from a kit a few years back. I got a late start this morning but before long I was at one of my favorite camps. I made some shavings and lit them using a flint and steel with char cloth.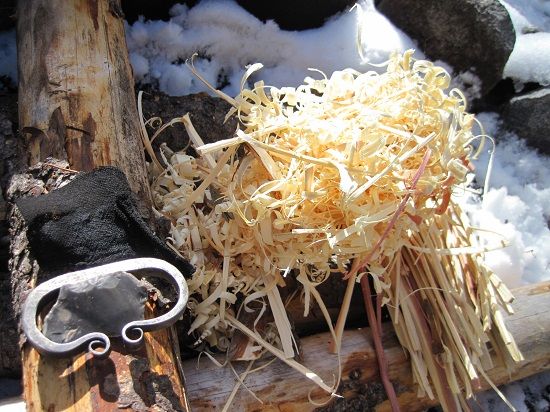 I put some lead in the ladle and set it on the fires base logs to melt.
When the lead was almost ready I pulled a piece of wood from the fire to heat the mold.
The balls aren't perfect (no fault of the mold)but they'll work. I used the sprue cutter to cut off the excess lead.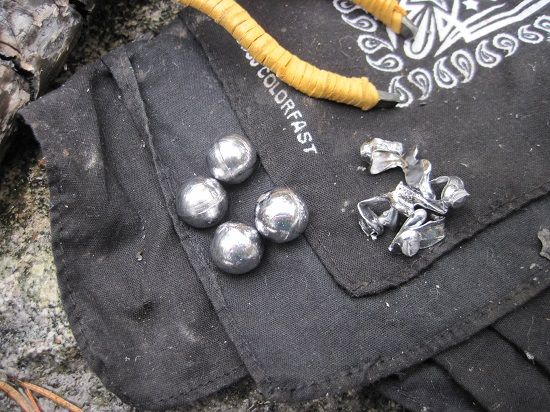 I headed out to see if I could get some meat for the pot with my Plains Pistol. Everywhere I went there were coyote tracks. It looked like they've been working this area pretty heavily for a couple days. It was overcast and good conditions for hare hunting.
I wasn't seeing any grouse or hares. Everything seemed to be holed up with the pressure from the coyotes. I did find a hare that one of the coyotes killed. It was whiter than any I've taken so far this year. With the spotty snow cover that might have been what did him in.
I covered a lot of ground and wasn't seeing anything but tracks. I climbed a ridge that flattened out on top. I was working around some cover and a hare darted out and disappeared over the edge of the ridge that I just climbed. As I started down the hill after him there were a couple patches of snow that he ran through telling me the direction he'd gone.
Finally I saw him through an opening in the cover. He was about 30 yards out quartering slightly away from me. At that angle and distance combined with the wide front sight of the Plains Pistol and low light in heavy cover, I wasn't going to try for a head shot. I put the sight just behind his shoulder and squeezed the trigger.
I saw him take a couple short hops to the left of the smoke cloud. I missed! He stopped behind a pine tree and I watched for a second before reloading to see if he would keep moving. Suddenly he reappeared from behind the tree kicking and flopping on the ground in death throes.
It turned out I hadn't missed. The ball broke his left front leg on entry, entered the rib cage and exited just past the sternum. It was a small snowshoe, about the size of a cottontail. I was very happy taking it not only with my Plains Pistol but with a ball I cast over the fire just a few hours earlier!


Experience is the best teacher, hunger good sauce.
Osborne Russell Journal of a Trapper