muzzleloadermag.infopop.cc
What about the .40
03 April 2021, 02:47 PM
Hanshi
What about the .40
I'll admit that the .40 is far from my favorite caliber but I've owned a rather nice one for many years. It's never hunted but has been fired quite a bit on trail walks, at the range and just plain ol' plinking. It has always been super accurate but I can no longer see well enough to really tell if it still is. A few years I made a mistake that left some light pitting in the breech area of the bore; but only for about an inch. When I go to shoot next I'll have a friend to shoot a target or two and see if my very bad shooting is the gun gone sour or, more likely, my very bad vision. I pamper my barrels and it bothers me a great deal that the bore sustained damage due to my mistake.
Are there any fans of the .40 who would like to discuss the caliber and guns? I've always had a couple of .45s for deer and a .32 & .36 for small stuff. Here in Maine the .40 is deer legal but I can't say for sure that I'll be hunting much from now on. But if I do it's likely to be with the .45 or the .50.


*Young guys should hang out with old guys; old guys know stuff.*

03 April 2021, 03:42 PM
Walkingeagle
Hanshi, I have no experience with a .40 muzzleloader, so I cannot provide any discussion, sorry. In fact I have never shot any muzzleloader smaller than the .45, which I know you are a big fan of. In fact, I bought my .45 just this last winter, a Pedersoli .45 Kentucky caplock, based on your posts. I knew I would need it in the future as my disease continues to take its toll, and stumbled on a decent deal for an early model. It is short, light and shoots the lights out with 40gr 3fg Goex and .440 prb. As my body wastes away further, it will step well into a target roll, and once I work up a good hunting load, for that too. I will most likely quit elk hunting soon and just focus on deer or fall bear, both of which will easily fall to that little .440 ball.
Hopefully someone jumps in soon with more knowledge of the .40 to chat.
Walk
04 April 2021, 08:25 AM
Rancocas
I don't have any experience with a .40 either.
However, I do have an original "Ohio Rifle" in .32. In appearance, it resembles a "Vincent Rifle." I know it was made by a gunsmith named Wareham who worked in the 1850's near Akron, OH. The gun is a percussion. It has no half-cock. Either the hammer is full down or full set ready to fire.
I have fired it using a single, patched 00 buckshot pellet and 20 grains of 3F. It seems to be accurate at least out to 20 yards.
My main hunting guns are a .50 percussion longrifle that I made myself, and a .62 flintlock smoothbore that I bought in the white from Caywood.


Know what you believe in. Fight for your beliefs. Never compromise away your rights.
05 April 2021, 12:16 PM
Hanshi
Walkingeagle, you will enjoy that .45 immensely. Recoil has never bothered me as my skull is so thick and brain so dull I don't notice any discomfort until the next day when bruises and pain make their appearance. The "kick" from a .40 is almost unnoticeable and barely noticeable from a .45. I've killed a bunch of deer with a couple of .45s and they were all one shot kills even at 75 yards. The most awesome (gruesome) blood trail was from an 8pt I shot. Ball didn't exit and still the ground, bushes and tree trunks were covered. He ran a total of maybe 60 to 75 yards and I heard his loud crash.
I've also used the .50 quite a bit and the .54 rifle and .62 smoothbore have done their share as well. The .45 is kinda like a loyal and strong cowpony; it does the job with aplomb doesn't cause discomfort. I have three .45s. I've used from 60 grns to 80 grns and the results have always been the same.


*Young guys should hang out with old guys; old guys know stuff.*

05 April 2021, 12:34 PM
Hanshi
Just as an afterthought here's a photo of my go-to .45 I've used for going on 19 -20 years.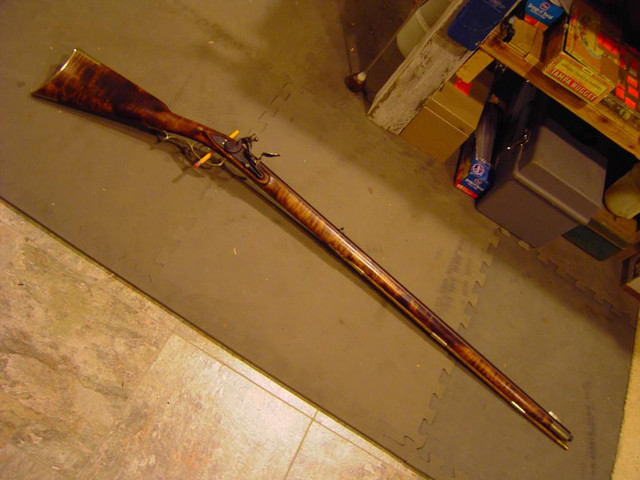 *Young guys should hang out with old guys; old guys know stuff.*

05 April 2021, 03:28 PM
Rancocas
Beautiful rifle, Hanshi.


Know what you believe in. Fight for your beliefs. Never compromise away your rights.
05 April 2021, 05:05 PM
Walkingeagle
Hanshi Sir,
That is a very nice rifle indeed. I am hoping the .45 allows me more time in the peaceful woods, that's for sure. I will have to start spending some time with her.
I'm hoping I get one more fall in the elk country. I sure would like to see that 20 roar!!
Also, my daughter and granddaughter could use the meat since that ex of hers decided they weren't good enough. And I spoke so highly of him in my 2019 Elk Hunt Journal on another forum!!
Goes to show ya, you never really know someone.
Walk
06 April 2021, 03:26 PM
Hanshi
Actually I've been giving this some thought for a good while and pretty sure this is what I want to do. I do really like the rifle but .40 is just not something I have much use for. Think I might get it re-bored to .45 which will give me 4 in that caliber. The GM barrel is quite heavy so it would certainly be a fine choice for the conversion. It would make a wonderful .45. The bore does have a bit of pitting at the breech so that would be cleared up by having it opened to .45. In my mind the .45 is a do-it-all caliber, mild mannered and accurate. If just roaming around in the bush my .45 flintlock would be my choice to accompany me. Just got to come up with the $$. You won't be sorry you have that .45, Walkingeagle.


*Young guys should hang out with old guys; old guys know stuff.*

06 April 2021, 06:18 PM
Walkingeagle
Thanks Hanshi. I expect it will very soon be pressed into service on a full time basis.
Walk
09 April 2021, 02:30 PM
JoeM
Hanshi,
I own a .40 x 7/8 x 36" (Ed Rayl Brl) w/ .010 depth Round Bottom Rifling with a 1 in 72 twist), and it seems to handle (believe it or not) 3fg, 2fg, and even 1fg black powder with no fouling problems at all. (Just have to feed it different charges). It's an accurate rifle for sure no matter what grade BP I feed it.
I built it on a "Jacob Dickert" style Lancaster County, PA. stock probably 20 years ago. It has a (Large Siler Cap Lock), which I can convert to a (Large Siler Flintlock) - should caps get out of hand price wise (which we're getting pretty darn close to that) - so someday it may just end up a fulltime Flintlock.
It's a fun rifle to shoot, and I use it mainly for target shooting, but have been known to hunt the ol' coyote with it as well... It's a heck of a shooting Rifle for sure, and I expect Ed Rayl thought I was nuts wanting a 1 in 72 twist, but as I said - it'll handle loading and continuous reloading no matter if it's 3f, 2f, and even 1fg I'm feeding it, and I seldom have to swab the bore when shooting a string of 5 to 8 shots, (even when using the 1fg). I once went 11 shots in a test using 1fg just to see when I felt it needed swabbing... The guys I was shooting with could hardly believe it, and me too!!!
Mostly I shoot .45's, but I have .50's and .54's, as well, and a 20ga that see's shooting as well. I like this .40, it's a very accurate rifle!!!
This message has been edited. Last edited by: JoeM,


Ohio Joe / Chadron Fur Trade Days
12 April 2021, 12:53 PM
Hanshi
With a 38" X "B" wgt GM barrel the rifle has weight but just handles beautifully. I do enjoy shooting it but the .36 SMR gets fired much more than the .40. The forty caliber simply fills a niche that doesn't exist for me. The .45 on the other hand has been used a LOT! I target shoot, hunt, trek the bush and have range time with it. I'm anxious to have the .40 LL flinter converted to my favorite caliber.


*Young guys should hang out with old guys; old guys know stuff.*

18 April 2021, 07:04 PM
Loyalist Dave
Trudy
is my hunting rifle. She's a .54
Pennsylvania Mountain Rifle
from Cabin Creek.
"Red" is my 20 gauge trade gun. It's a trade gun with parts of India origin.
I picked up a DGW Tennessee Rifle in .50 because it was going for a "song", but I haven't shot it yet.
Patience
is my .40 and is named that because it took so long to arrive, and I still need to work on load combination.
LD


It's not what you know, it's what you can prove
19 April 2021, 02:35 PM
Hanshi
LD, a .54 is only just a rifle built by a dyslexic fan of the .45. I have a .54 that has taken deer but doesn't get to hunt any longer. It weighs 10-1/2 lbs, a bit much to tote around the woods. The very first rifle I ever bought was a .45 and I guess it spoiled me.


*Young guys should hang out with old guys; old guys know stuff.*

24 April 2021, 05:34 PM
Osprey
Hanshi I wouldn't say the 10.5lbs has anything to do with it being a .54. I have a .58 I built that's my main whitetail and bear gun and it's only 6 lbs and a dream to carry in the woods.
I have a .40 bedford, percussion, 13/16 x 42" barrel and it's a joy to shoot. While I have killed a deer with it, it's used mostly for targets and woods walks. Very accurate and fun rifle, would certainly shoot it more but I have too many other rifles already and keep building more. Yes, I have a problem.
Working on a 16ga rifled flintlock now. That .66 ball is a beast and the gun will be a nice stable mate to a 16 ga smoothbore I made a few years ago.
10 May 2021, 12:20 PM
Hanshi
Osprey, the .54 I have is a US M1841 "Mississippi" rifle. As handsome and accurate as it is, it's a bit too much for me to take into the woods very often. I do like this rifle a whole lot and it will never leave me voluntarily (my choice, not the rifle's). I would dearly love either a jaeger or a longrifle in .54.
It's been at least a couple of weeks since I shipped the .40 barrel to Bobby Hoyt for conversion. If the bore had not acquired the pitting - accuracy did suffer from it - I would not have sent it to be re-bored to .45. I don't know how long I'll have to wait for the barrel to be finished and returned, but I'd like to have it before the end of summer so I can sight-in and fine tune the load. I'm also not averse to getting another .40, I'm just not in a hurry to spend that kind of money.
I spend a lot of time with the .32 and .36. They are both very frugal with lead and powder; plus I have little need to shoot anything other than squirrel-taking loads. Twenty grains of Goex 3F in the .36 - 20 grains of Swiss 3F in the .32 - shoot as tight a group as I'm capable (actually not capable) of at 25+ yards. A friend and I did a great job on 80 yard targets with my .36 and the 20 grn load. I also know that Walkingeagle is going to bond with his .45 rifle as I did.


*Young guys should hang out with old guys; old guys know stuff.*